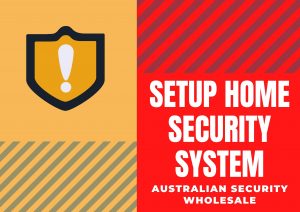 Apartments are often home to many people and should come equipped with buzzers, ID-enabled entry systems, or security. There are still many criminals curious about breaking into your home hence requires home security systems. However, that does not mean you cannot make it tough for them! The primary step in home crime prevention is to eliminate opportunity, and it is up to you to choose the concrete unbreakable security measures to prevent the unintended barge in.
When it involves protecting your family and your belongings, you cannot be too lenient, and there are many ways you will need to protect your home from invasion or burglary.
Most of us only worry about nighttime security but remember burglaries can occur any time either during daylight when most of the people are at work, school, or running errands or at midnight when all of the family members are sleeping. So, it is important to take precautions throughout the period.
The security features should be 24/7 active as break-in can permanently shatter your long-term investment. Luckily, taking a couple of simple precautions could reduce the risks of an attacker gaining access to your home and keep your home or apartment in tip-top shape.
13 steps to safeguard your home
The security measure intends to protect your home and valuable asset from theft. So here we present you few measures and guide that intents to discuss prevention steps needed to safeguard your home.
Walk around the exterior of your home and scout out the weaknesses
The best way to protect your resident from the surface area is to survey it with the eyes of a burglar. If you think the window can be easily unlocked and can be a route for entry. You can re-change its structure by connecting with your local department or security agencies. They will provide a courtesy home assessment that will assist you to identify the weakest spot of your house.
While you are checking for the weak spots, make a note of any expensive electronics, art, or furniture that are easily accessible through windows. You do not need to redecorate your entire home, what you can do is keep the expensive material out of sight as a small adjustment will not hurt your pocket.
Landscaping and Home security system
A few alterations to your landscaping are enough to keep off potential offenders. To avoid the trap, intruders search for a property that is easy to access and can be taken hold of. Their ideal target is usually a house surrounded by large hedges and shrubs, which hamper visibility from the road and camera vigilance. So, we suggest the residential complex owners perform the following task for security reasons.
Here are the few kinds of stuff, you need to check on the landscaping for home security system
Bushes, Shrubs, and Trees: Trim shrubbery and trees so doors and windows are visible to neighbors, and from the road. Trimmed landscaping should not provide concealment for criminals. If you have got a second floor, prune trees so that they cannot help a thief climb in second-floor windows. Place trellises where they cannot be used as ladders to realize entry to the upper floors.
Ground plants (shrubbery and bushes) within four feet of any sidewalks, driveways, doors, or gates, should be maintained at a height of fewer than three feet.
Ground plants located between four and eight feet of any sidewalks, driveways, doors, or gates should be maintained at a height of fewer than four feet.
Ground plants under windows should be maintained at a height that is below the windowsill.
Trees should be trimmed so that the lower branches are seven feet above the ground.
Place large gauge gravel on the bottom near windows. The noise caused by intruders walking thereon can become a psychological deterrent. Do not place river rocks or other items near glass windows or doors. These are often employed by the burglar to interrupt glass.
Spiny (thorny) plants along fences and under windows should be planted. Such plants will discourage even the foremost nimble intruder. Protecting with spiny plants is as effective because the use of wire and tons are more attractive.
Restricted or Direct Entrance to yards and storerooms
Your intruders search for minor obstacles blocking their quick exits. Fences avoid burglars from carrying away large items if the gates are locked. Likewise, an automatic lock system should be installed in the main entrance with CCTV cameras. All these security systems should be channelized to the security room.
Ladders and tools should be stored in a garage or storage shed, safely locked.
Landscaping should be designed in such a way to regulate access to your property.
Keep all doors and windows closed and locked
An open window or door is like inviting the burglars to rob your home. So, keep them shut when you are not around or when you are sleeping. Add ventilation to your room so that you can allow the airflow while you shut your window. Do not use door locks of low quality, as they can be easily open. You can add the alarm system in the whole building to detect the threat.
Confirmation of deadbolt locks
Sliding doors must have vertical bolts and metal with the wooden rod. The tracks need to be stopped to prevent pre-forced openings of doors being. Never leave your home without locking the front entrance, regardless of how brief your trip.
Do not forget to tightly shut the door attached to the garage. It is one of the easily accessed targets and a possible entry route.
Reinforce windows with laminated glass or metal bars.
You might find this as an extreme step, but intruders will often break the small window to get in. Make it impossible for them to interrupt through by consulting a proper security agency in Australia. As a minor step, you can take help from the window company to put in laminated glass which just makes them impossible to squeeze through by installing metal bars. There are many decorative options for metal grilles which will make the adjustment both practical and aesthetically pleasing.
Secure valuables inside your safe box or lockbox
If it is small and not mounted, consider having your safe bolted to the ground. Give your passcode or combination only to a trusted one just in case of an emergency. Do not dispatch it anywhere in your house easily that is accessible to a burglary.
Cover your windows with blinds
It sounds creepy but believes us many intruders "shop around" permanently pickings before they choose an area to burglarize. The simplest way to keep your home off the highest list is to shield the windows with blinds. Keep your blinds closed when you are not home.
Be friendly and social in your community
Be social! by doing so you can ask your neighbor to observe your house in your absence. If you are going out of town for vacation or anything else, hold your correspondence and have friends or a trusted neighbor check on your apartment while you are away. And consider joining or organizing an Apartment Watch group so that neighbors in your building can look out and help each other.
Invest time and money in safety
The investment made on safety and security is a one-time investment. You can install an alarm monitoring system and other security systems which aim to prudentially maintain safety and home security. So, what you can do is take help from the security agencies which aims to give you overall security service. Before leaping on the security hardware, you need to understand the device. You can take the security consultation service, understand the pros and cons of the service, and then take one of them.
Consider the CCTV cameras
Security cameras are often a surprisingly affordable addition to your apartment security monitoring. You would possibly think that cameras got to be installed as a part of a full security system, but many standalone cameras will send a feed on to your cell phone so that you can monitor your apartment from anywhere. The cameras and smart video doorbells do have motion detection, night-sight, and two-way talk so that you can safely chat with people at the door without having to open the doors.
Install a security system
Drilling holes in apartments are distressing; numerous renters think their apartment security system cannot be extended beyond a pyramid of cans stacked ahead of their door. Fortunately, that is not the case. Wireless alarm systems use adhesive to repair door and window sensors, and you will need to use a smartphone for monitoring. Many security systems for apartments do need freestanding sirens (no clunky keypad and siren mounted to the wall) to provide you with warnings. Another bonus: having a security system can lower rates of your renter's insurance.
Install automated lights
At time's burglars often keep track of your routines before deciding to break-in. Install automated lighting in your apartment. Smart light detects movement and regulates the light (i.e. on & off the switch). Likewise, the smart lights send you notification on your cellphone on your absence.
Conclusion
Safety should be a key concern for you and your family. It's not about the material aesthetic it is about keeping your family safe when you are not around. Australian Wholesale Security service offers security system installation and monitoring alarm in a residential complex in Australia. The company holds a strong reputation in serving industrial, commercial, and industrial service in Australia by pooling in expertise and talents to manage the security service. The robust management service combines the best suited and well-resourced system.
For more, you can contact us at www.ausecurity.com !